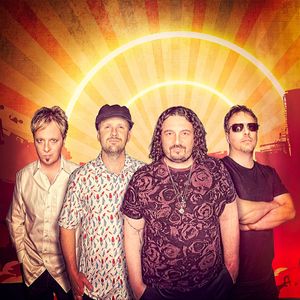 BIO
StoneRowe is Billy Comfort (vocals/keys; Mississippi), JP Crowley (guitar; Detroit), Johnny Lamb (drums; West Virginia) and Greg Edmondson (bass, Memphis). Their music evolves from a mix of metal, pop and prog influences and is grounded in guitar driven rock melodies and song lyrics that are positively deviant.
Comfort, Crowley and Lamb first connected on the Memphis music scene in 2017 around their shared enthusiasm for glam metal. Following a year of live performances together, their attention turned to songwriting with an intent to record an EP. Recognizing the need for a permanent bass player, the band's search led them to Edmondson, the former bassist for Breaking Point. Following several jam and studio sessions, he joined the band in April 2020.
2019 marked StoneRowe's first full year as a band, highlighted with the release of their debut single "Higher" in June. The hard driving rock song, inspired by "the chase of the dream," was an iTunes Top 40 rock hit in four countries (Belgium, Brazil, Italy and Thailand) and generated extensive radio play throughout Latin America and Europe. The band will continue to deliver single releases through 2023.
StoneRowe's aim with their music is to project positivity, inject a wild and fun debauchery into mainstream rock and roll, and for their fans to embrace that attitude and share it with the world.
To stay up-to-date with the latest news from the band, please join our mailing list below.
For media and booking inquiries, please email info@stoneroweband.com or fill out our contact form.